Membership is open to all Fans, Friends and Alumni!
*** 35 or under membership is FREE ***
Bokamper's has over 70 plasma HD TVs along with some of SW Florida's Largest HD TVs. We play every sport, every game, every event. All Buckeye games will be on the screens and Naples Buckeyes have a room reserved for watching.  Bring the whole family and enjoy the Buckeye games with other fans and the entire staff at Bokamper's Sports Bar and Grill.
Check out Bokamper's Happy Hour and Daily Specials on the web site at www.BokampersNaples.com . 
8990 Fontana Del Sol Way                                   
Naples, FL  34109
239-431-7611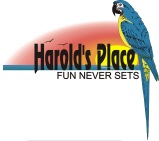 Harold's is an outside tiki bar that features numerous satellite TVs located throughout a lush tropical setting among the palms.  Harold's serves the very best REAL grouper, delicious burgers and of course all your favorite beverages.  The Fujiyama Steak House of Japan is connected to Harold's and has received the highest ratings for culinary excellence.  Also connected is Club Sushi, which has been voted Best Sushi Bar by the readers of Gulf shore Life magazine.
Cari Larcomb, the owner, and most of the staff have been here since 1981 and cater to the locals first . . ."if the tourists find us it's OK, but the locals are our backbone."  Tommy Larcomb, Cari's deceased husband, was one of the original founders of the Ohio State Alumni Club of Naples in 1988.
2555 Tamiami Trail N Naples, FL  34103 - 239-261-4332
Stevie Tomato's is a sports bar with a great Columbus connection as manager.  It is a friendly, fun spot with a huge menu, great entertainment and daily specials.  Check out the specials for game at www.stevietomatossportspage.com.
15215 Collier Boulevard #301
Pebblebrooke Shopping Center
Naples, FL  34119
239-352-4233